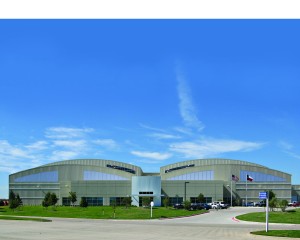 Purchased in 2010, EagleSpan designs are ideally suited for aviation hangars, equestrian centers, sport complexes and commercial applications. EagleSpan® buildings are based on innovative design which can clear span over 200 feet, while producing clean and simple designs which are aesthetically pleasing, require less steel, and will reduce your construction time and expense.
The folded web beam design provides the inherent capability to shape the beam into a true-radius curved rafter (from 50 foot radius and up).
EagleSpan offers many unique features including:
A true radius (not segmented) frame which can clear span more than 200 feet
Beams fabricated in our manufacturing facility (not outsourced) thus minimizing costs while maximizing quality
Easy integration into traditional metal building design procedures
Standing seam roof system is standard
If you're looking for the most modern, advanced structure available look no further than this unique product from Behlen Building Systems.