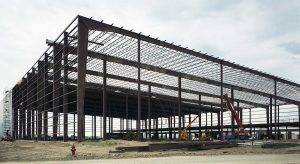 The Long Bay Building System is an example of how choosing a steel building from Behlen, can save building owners time and money. Long Bay Buildings provide bay lengths over 60 feet maintaining the efficiency of building with metal. The system is also a perfect match to the Behlen ZL-24 Standing Seam Roof System, thereby giving you one source and ensuring all components fit up right.
Versatility is also key. This building may be combined with hard wall systems (masonry, pre-cast, and tilt-up construction), as well as metal panels. For a bit of competitive advantage over conventional construction methods, builders may utilize a variety of roof systems including B-deck and built up roof systems.
Larger bay spacing can reduce interior columns, providing more usable space for building owners. Standard bolt and nut construction practices are utilized to helps achieve reduced steel erection costs. To add durability, bar joists are designed and manufactured according to the Steel Joist Institute (SJI) specifications.