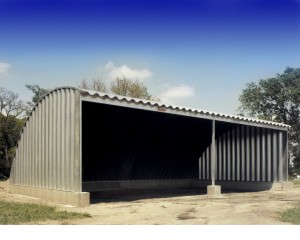 The Rancher features the same rugged design as the Behlen Curvet. It is also constructed of heavy-gauge, roll-formed, galvanized steel. It is a self-framing structure providing a lifetime of maintenance free service.
An ideal way to provide protection for livestock, hay or machinery. This building is 35′-8″ x 62′-5″, with two bays at 31′, or three bays at 20′. Special header design is 13′-10″ clear. There is no place for birds to roost.
Features
Low-cost protection for your valuable hay or machinery
A livestock shelter that can really take abuse.
Maintenance-free for a lifetime of service.
Goes up fast to serve your needs now.