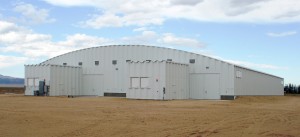 Clear Span Buildings
For column-free, unobstructed spans, the clear choice is Behlen's self-supporting S-Span Roof System.
The S-SPAN system is ideal for recreational facilities, aircraft hangars, arenas, or large clear spans are desired.
With S-Span, the roof and ceiling are integral parts of the structural system. Two separate continuous chords of steel panels are joined together by a diagonal strut assembly. The top chord forms a finished, weather-proof roof. The bottom chord forms a clean, attractive, finished ceiling.
S-Span Roof Systems can be installed on Behlen's load-bearing steel walls, masonry walls, precast concrete walls, or perimeter column systems.
Construction of a Behlen S-Span building is truly unique. With all the support strength formed into the corrugated steel wall panels, there are no interior frames to work around. S-Span interiors are uncluttered and attractive. Speakers, lighting and other equipment can be bolted directly to the ceiling. Mechanical equipment and electrical wiring can be hidden from sight. The energy-efficient design of the roof allows a high R-value to be achieved.
Dress it Up
There is almost no limitation in facing materials that can be used on an S-Span building. Choose from standard corrugated steel panels, color coated ADP panels and facades to masonry, wood or even glass.
The perfect roofing answer for pre-cast concrete or masonry wall construction
Long, clear-span capabilities
Provides the finished roof as it's installed
No special fasteners needed, only standard Behlen components
Conceal wiring, HVAC, piping and insulation between the roof and ceiling